The real estate market is getting hotter and hotter. The local Boise market is no exception. Here's your monthly update on what's happening.
Data from Intermountain MLS from December 1, 2020 to December 31, 2020.
Monthly Sales
According to data from the Intermountain MLS, Boise home sales are dipping monthly but higher year-over-year. At 1,245 units sold, there were 91 fewer monthly sales in December than in November, a 6.8% decrease. This follows seasonal real estate trends. Looking at yearly changes, there were 28 more homes sold in December 2020 than in December 2019. That's an increase of 2.3% from last year.
Sale Price
At $452K, Idaho's average sale prices continued to rise last year. The average home price in December 2020 was $87K, or 23.7%, higher than in December 2019. The monthly trend follows the yearly move upward. Average home sale prices were up by $3.7K, or .8%, from November 2020.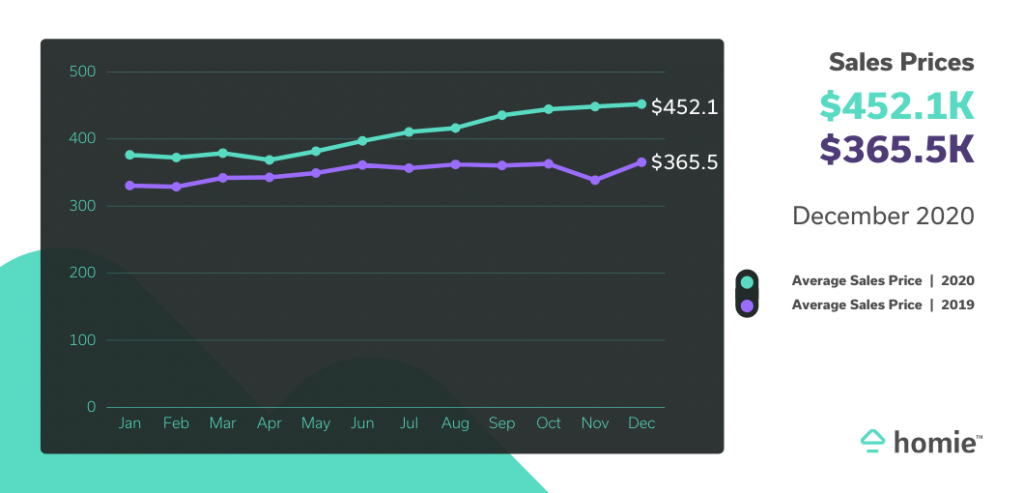 Days on Market (DOM)
Homes in Boise are going off the market faster than ever. December's average number of Days on the Market was 18. The previous month's average DOM was 17, so the average DOM has stayed steady with a one day, 5.5% increase. The average DOM in December of 2019 was 48. That means a 30-day (a whole month!) decrease year-over-year–a staggering drop of 61.9%. Homebuyers will need to jump to make an offer quickly when they find a home they like.
Analysis from Max Coursey, Homie Head of Idaho Real Estate
"Boise is one of the fastest growing cities in the country. Since COVID-19, this trend has only accelerated. There are roughly 2,000 (79%) fewer houses on the Boise market now than there were last year, and we already had a housing shortage a year ago. I have personally never seen numbers this low in my 18-year career in the Treasure Valley. This lack of homes for sale and tremendous population growth has led to a very strong seller's market. It's not unusual to hear of a seller receiving 20 offers on a property.
Because of the fierce competition and lack of inventory, many homes are selling significantly above the asking price. To sweeten the pot further, buyers often waive inspections and appraisals and offer generous seller leasebacks and other concessions. Sales price data typically lags, as it usually takes 30 days for a home to close after listing, and reports come out monthly. I believe Boise's median average home prices are actually higher than the numbers stated in the reports.
The good news for buyers is that interest rates are at or near their lowest levels in the last 40 years. This has made home buying more affordable. Buyers can procure a strong hedge against future inflation by securing low interest rates that are fixed for 30 years. If inflation ever comes back, these buyers will be repaying depreciating dollars. In other words, they get more bang for their buck."
Turn to a Homie
Homie now has local real estate agents in Idaho. These agents are pros in everything they do, including understanding the local real estate market. Click to start selling or buying and to get in touch with your dedicated agent.