The real estate market fluctuates often. The local Utah market isn't an exception! Here's your monthly update on what's happening.
Data from Utah MLS from October 1, 2020 to October 31, 2020.
Monthly Sales
According to data from the Utah MLS from October 1, 2020 to October 31, 2020 monthly sales in Utah are rising. At 5,602, there were 417 more monthly sales in October of this year than in September. This is a +15.4% increase from October 2019.

List Price
It's not just inventory that's rising, but list prices are rising in Utah, as well. October's median list price was $369K, a +12% year-over-year increase.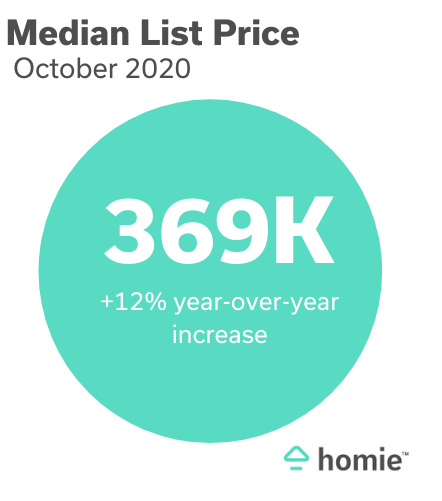 Sale Price
At $370K, Utah's sale median sale prices are sitting slightly higher than the median list price. This number is $50K, or +15.6%, higher than sale prices in October 2019.

Days on Market (DOM)
Homes in Utah are flying off the market faster and faster all the time. October's average number of Days on the Market was 9. The previous month's average DOM was 11, while October of 2019 had an average of 29. This is a whopping -69% decrease. If you're looking to buy a house, you'll need to move faster than before.

Number of Homes Listed With Homie
A total of 231 homies listed their homes with Homie during the month of October.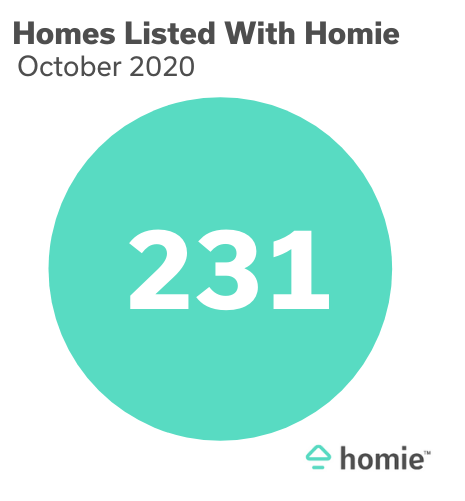 Turn to a Homie
Homie has local real estate agents in all of our service areas, including throughout Utah. These agents are pros in everything they do, and understanding the local real estate market is their passion. Click to start selling or buying and to get in touch with your dedicated agent.