In May, prices continued to soar, but there are some promising signs for our buyers out there that things might be in the early stages of leveling out. After months of many sitting out of the seller's game with fear of missing out, homes are starting to hit the market. As a result, we've had four straight months of increasing inventory, with more entering the market every day.
Want to see how much Homie could save you? Connect with an agent today.
Here's the full breakdown:
Monthly Sales
According to the data from the GLVAR® from May 2021, Las Vegas saw nearly 3,200 homes sold, down 14% over the last two months.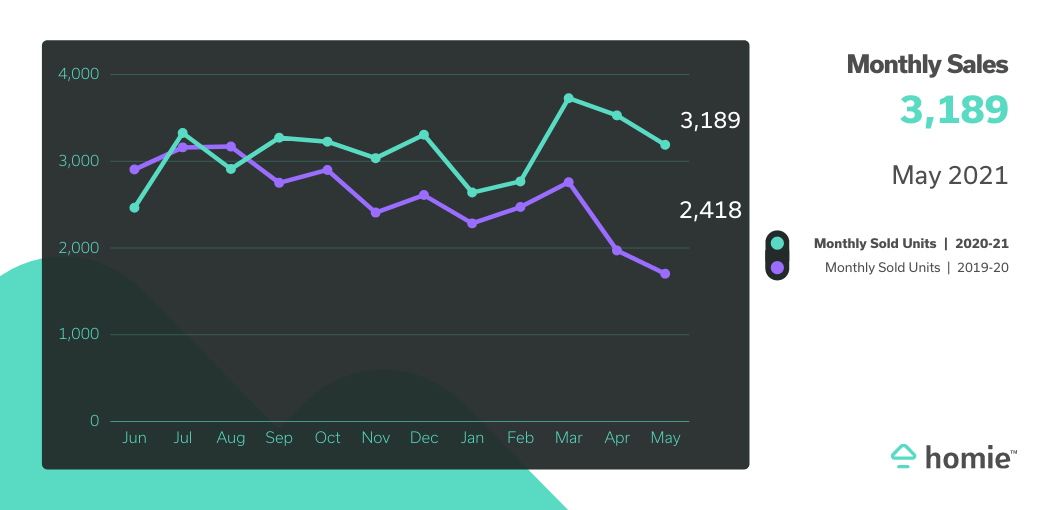 Sale Price
Average sales prices are still on the rise, up more than 18% YoY. A third of that price rise has occurred over just the last two months. I should note that the Las Vegas Rental market has also seen massive spikes and has had the second-highest rent increase YoY in the country at 17.3%.

Inventory
Inventory is still pretty scarce, but we have now seen an uptick in inventory for four straight months, a sign that the market has, at least, begun its shift.

Want to Know How Much Your Home's Value?
Want to know how much your home is worth? Get a home value report from a Homie agent today!
Turn to a Homie
Homie has local real estate agents in all of our service areas. These agents are pros in everything they do, including understanding the local real estate market. Click to start selling or buying and to get in touch with your dedicated agent.
Call us at (702) 550-1081 or message us on Facebook to get in touch with an agent. Or create an account with Homie to start your listing.
Presented by Homie, NV Lic. # B.144145